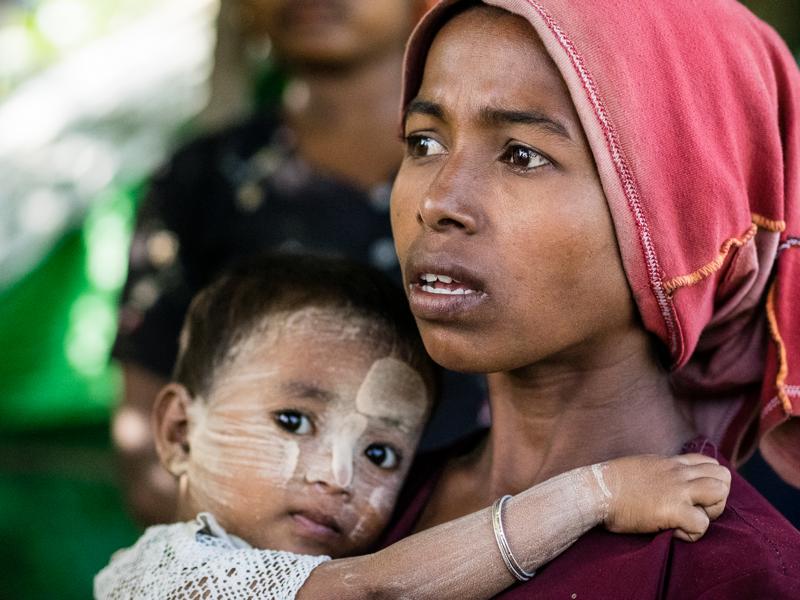 While her two month old sister lay on the sofa, Sadiya, who's a little over a year old, toddled across the room. She wobbled precariously, somehow managing not to fall, proudly fetching a ball back to her mother Fatima.
"Sadiya has lots of energy," Fatima sighed. She tells me how she's often tired; the baby wakes in the night and Sadiya wakes early the next morning. Fatima, 15 years old, moved to Malaysia with her family 7 years ago. She was married at 12 years old. She faces long days at home with the two kids as her husband is usually gone over 12 hours a day with his work.
Whilst sharing her reality, Fatima smiles and says her daughters bring her much joy.
I noticed a black spot on the baby's forehead, so asked what it was for. Fatima explained it was there to ward off evil spirits, saying that she especially uses it when she goes out after dark with her daughters. I shared a story about how Jesus has power over evil spirits, and explained that she does not have to be afraid. I prayed with her in the name of Jesus.
Prayer requests:
Child marriage is common in Rohingya communities. Pray for girls who are tasked with roles as wife and mother at a very young age.
Research shows that education curbs child marriage. Pray for increased educational opportunities for Rohingya boys and girls.
Many Rohingya have animistic beliefs as part of their belief system. Pray that they would come to know Jesus as their true protector and saviour.