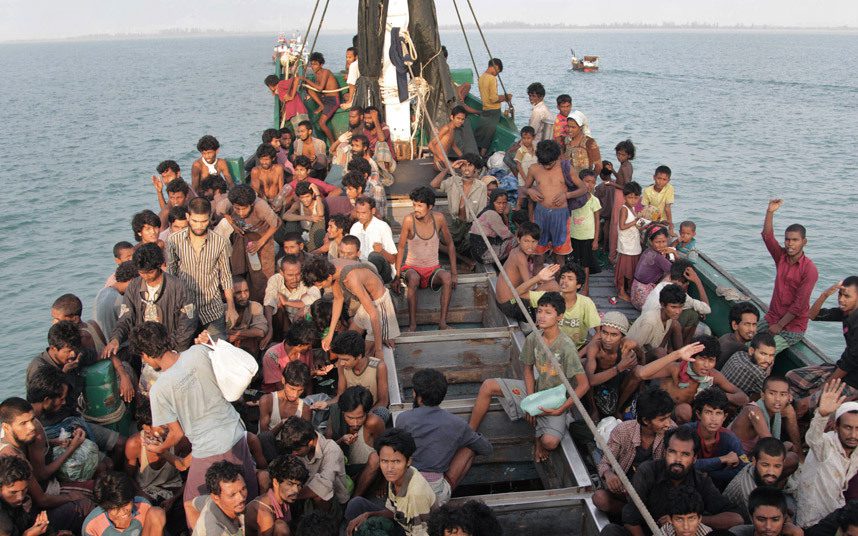 "Tomorrow I will go. I have waited long enough. I can't stand it anymore." 20 year old Yunus packed a few belongings into a small bundle. Finally he has made up his mind. For months he has pondered the different options he has. Now he has decided: Tomorrow night he will take his chances and flee on a boat. "God willing, we will make it to Malaysia," he whispered to himself.
It was a typical rainy day at the beginning of the Monsoon season. But this day in early June was different. Yunus will never forget it. For a few days there was a tense atmosphere. Rumours about violent clashes spread like wildfire. But until this evening, the village where Yunus' family lived was quiet. His mother and younger sisters were afraid. They had reason to be… After dark the villagers heard the noise of a group of people approaching. Soon they saw a crowd entering their village. Some were armed with pointed bamboo sticks, metal rods or with swords, other carried petrol cans. Some women and even monks were among them. They shouted "Get out or you will burn with your houses." Yunus' father went out and tried to talk to the people. He knew many of them because he used to trade products with the neighbouring villages. But the attackers did not listen but started to beat him violently. Even after he fell to the ground, they continued to beat and kick him. Yunus ran to help his father, but he was also beaten. The next thing he remembers seeing is their house going up in flames and his family running away, screaming in panic. Yunus stumbled after them and they hid together in the mud of a nearby paddy field. From here they could watch their entire village burning and the villagers escaping in horror. They could even see that soldiers and policemen were behind the mob, shooting at the fleeing people, while others tried to loot as much from the houses as they could carry.
When they emerged from their hiding place at dawn, they saw the full extent of the destruction. All houses were burnt down, most cattle and valuable property looted. But worst of all, in front of the smouldering remains of their house they found the lifeless body of Yunus' father lying in his blood. Yunus still dreams of that night and of the dreadful sight of his dead father.
Later the villagers were forced to move to a refugee camp several miles away. They had no shelter and struggled to gather a little bamboo and some plastic sheets to protect themselves from the pouring rain. For days they had to go without food. Only after weeks, the first tents were brought in by aid organisations and slowly basic food supplies came in more regularly.
This is almost three years ago. Yet still no solution is in sight. Neither the government nor the opposition groups have come up with a long term plan how to solve the problem. Yunus' family has given up hope to ever return to their village and resume a normal life.
That's why Yunus has finally decided to join the thousands of "boatpeople" who did that step before him. Many young people see their only hope in risking the dangerous journey in small boats across the sea to Thailand or Malaysia, where they risk getting intercepted and put in jail, or perishing on sea in a storm or when the engine breaks down. But whoever makes it can maybe find a job and send money back to his suffering family.
Prayer Points:
Pray for the safety of thousands of people like Yunus who fled from persecution
Pray that the wounds of the traumatised souls would heal
Pray that the refugees would meet followers of Jesus who show them the way to love, forgiveness and salvation
Pray for a just solution at the heartland of the Rohingya which ensures peaceful coexistence of the different groups
Featured Image: Picture: AP Photo/S. Yulinnas (The Daily Telegraph)