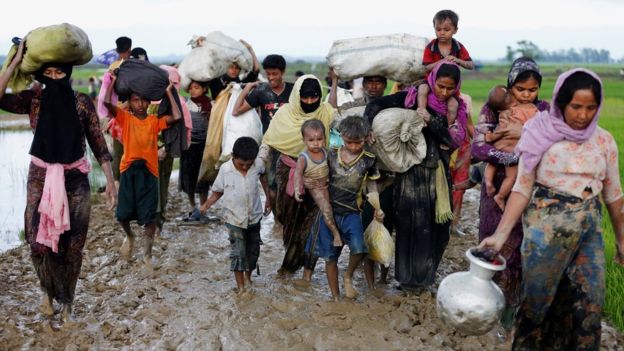 How long, Lord, must I call for help, but you do not listen? Or cry out to you, "Violence!" but you do not save?
Why do you make me look at injustice? Why do you tolerate wrongdoing?
Destruction and violence are before me; there is strife, and conflict abounds. (Habakkuk 1:2-3)
August 25th is now being called Black Friday. On that night a Rohingya militant group staged coordinated simultaneous attacks against almost 30 police and army posts. This has unleashed a massive "clearance campaign" by the Myanmar army. Northern Rakhine State has been declared a military operational zone. The results of these two weeks of fighting are heartbreaking: Officially, almost 7000 houses in 60 villages were torched and more than 400 people are dead. The real numbers are likely much higher. As of September 9, the UN confirms that 270,000 Rohingya have fled to neighbouring Bangladesh in the past two weeks. They join another 70,000 who have fled after the last outbreak of violence in October. This means that about a third of the Rohingya population of Rakhine State has fled already. Many more are ready to go.
The situation on the Bangladesh side is desperate, too. There is not enough shelter or food for the masses who pour across the border every day. Some are without shelter (it is still Monsoon season!), others are cramming into the huts of friends or relatives. "There are as many as 50 people in our small hut. We don't have space to lie down, so we sleep in a sitting position – but at least we are all alive and safe!" reported one person who recently arrived in Bangladesh.
The situation is still unfolding but it is clear that the overwhelming suffering in this unprecedented crisis calls for urgent prayer of the worldwide body of Christ!
Romans 8:26: "We do not know what we ought to pray for, but the Spirit himself intercedes for us through wordless groans."
Please pray for:
the many refugees to find the safety, food and shelter they so desperately need.
peace in Rakhine State. Pray that the plans of Satan would be thwarted and that God would use these things to bring people to Himself.
God to pour out His Spirit on the Rohingya and that the Gospel would come and transform hearts, lives, villages, and the whole nation.
the Rohingya believers to be safe and to bear injustice and suffering by looking up to Christ.