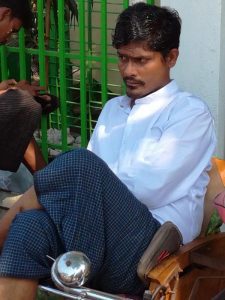 "Would you like a wax with your wash?" Muhib is 18 years old and has quickly learned the skill of upselling in his job at the car wash – earning him favour with the boss and extra cash. His strong work ethic and trustworthy nature has earned him more responsibility within the business.
To his Rohingya friends, Muhib has a good life; a steady job with a kind and fair boss, a home with good friends, and a UNHCR card. Yet Muhib feels stuck and powerless. Three years ago, his older sister was resettled to America and he longs to be reunited with her.
Muhib was just 15 years old when he was arrested and sent to a detention centre. He had been living with his sister and her husband; they were his guardians. Whilst he was in detention they were called for interview to be resettled to a third country. As Muhib was not registered with the UNHCR he could not be included in his sister's resettlement application, even though he was a minor and in her care.
Upon his release Muhib was registered with the UNHCR. The family contacted the UNHCR to try and add him to their file. Unfortunately, it was too late – their date for resettlement had been set. Muhib said goodbye to his sister two years ago, unsure if he would get to see her again. He felt alone and anxious.
Muhib has applied and been accepted by the UNHCR as eligible to be reunited with his sister who is now in America. His case is awaiting approval by the US government, but the current political climate means responses for approval are slow. Eighteen months on, his life still hangs in the balance. Muhib is concerned that if too much time passes he will be considered an adult and not eligible for resettlement.
Hope deferred makes the heart sick. Muhib's heart has become weary through months of waiting to see his sister again. Living in the uncertainty and worry is causing him to lose hope and develop a hardened heart.
Pray for Muhib and those like him who feel powerless. Pray for powerful encounters with God and hearts that stay soft in difficult circumstances.
Thank God that he has a plan and purpose for the life of every Rohingya person.
Longing fulfilled is the tree of life: Praise God that he made us all with a longing to know Him. Pray for the longing to know God to grow and be fulfilled for the Rohingya people.