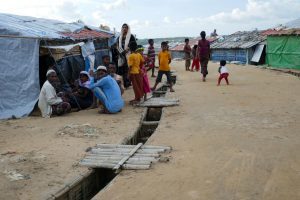 Today (August 25) marks one year since the mass exodus of around 800,000 Rohingya people from Rakhine State, Myanmar. The stories and images that have accompanied this atrocity and continue to come from the refugee camps in Bangladesh are truly heart breaking.
The media paints a bleak and hopeless picture for the future, and the international community are seemingly frozen out of influencing the situation. Yes, it is stark and awful, but let's remember we believe in a God of love, and a God of restoration, a God of hope.
Let us stand together in hope for the Rohingya, believing God is at work.
Join with us in prayer:
God of love, be glorified in the nations.
Shine your face and make your name known.
We bring to you the plight of the Rohingya.
Have mercy, O Lord.
God of grace, let your Spirit flow.
Impart strength to the Rohingya to endure these times of trial.
We pray heaven's favour for a forgotten people.
Let grace flow.
God of hope, let your truth arise.
Stir the hearts of the Rohingya to see their future in you.
We pray for new beginnings for broken hearts.
Let hope arise.
You are the refuge for the Rohingya,
their shelter in these times of trouble.
May they find comfort and peace in your arms of love.
Have mercy, O Lord.
May your everlasting love know no bounds.
Reveal yourself in glory.
Bring new creation in the chaos.
Bless the Rohingya nation with hope of new beginnings.
We carry hope in our hearts.
Stir our faith to pray for the unseen, the unknown.
Have mercy, O Lord.
Amen.