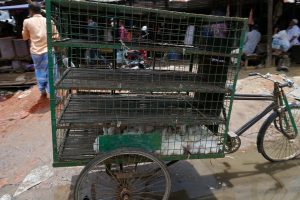 A small path leads to the hut that was built to give shelter to a small family: Faadl and Elmas (14 and 16 years old), their mother and little Hasuma, 3 years old. The house has three rooms, a big living area and a few smaller rooms for kitchen and sleeping areas, one for mom and the baby, the other one for the two boys, and a third one for the uncle who moved in after his accident. The accident.  Only with a shivering voice, trying hard to hold his tears, Faadl narrates what happened that day. His father was on the way to sell chicken. The business he set up after he fled from Myanmar with his wife and Faadl as a baby. He worked hard to buy chicken, feed them and sell them to costumers in the surrounding villages and town areas. He did that using his motor bike. He was able to earn a little money – at least enough to provide for his family, always fearing that the police could arrest him anytime, given the fact that as a refugee in this country he isn´t allowed to work at all. But there were these troubles with the community. They didn't like the business. It was smelly and loud. Chicken are not easy to shut up before you are preparing them for selling. And some neighbors were jealous. Therefore the father searched for an area cheap enough to rent or buy something and usable for a chicken business. He couldn't find anything, until he found the swampland in between the railroad and the barbwire wall. The house he built was simple yet big enough to host the whole family and guarantee a safe home –  at least when it didn't rain much.
The day when the accident happened, Faadl's father had left the house to sell some chicken. Somehow he had to stop by at one of the main roads and needed to cross it in order to deliver a few of his chicken. Nobody exactly knows what happened but he had to carry one of the chicken-filled baskets with him. Eventually a truck driver didn't see him and the father of three was hit. He died on the spot. With tear-filled eyes and hopelessness Faadl ends his story. Almost a year after this tragedy Faadl and Elmas are struggling to keep up the business and pursue education in a nearby refugee school. They go to school in the morning and sell chicken in the afternoon. Faadl is at breaking point because of the immense responsibility he has to carry. Being the eldest son, he is eager to provide for his family. But he cannot go as far as his hardworking father could; he cannot use the bike to deliver chicken, since he doesn't own a license. If police would catch him and send him into detention, nobody would be able to provide for the family anymore. Hopeless, abandoned, futureless Faadl and Elmas are devastated. And so is their mom. Following Rohingya culture, her husband used to do every work outside the house for her. Now she has to go shopping, not able to speak the local language, since she didn't have to leave the house before. The uncle (her brother) who moved in after the accident, tries his best to support the family wherever possible.
As if it wouldn't be enough a flood hit the state. Thousands were affected. A lot of Rohingya lost their possession among them Faadl and Elmas` family. During the flood water rose so high inside the house that they could only stay in the highest area, cramping on a small platform within the small house. The water went chest-high in the little swampland. The school closed for a few days, because the students weren't able to attend school. Two of them were Faadl and Elmas. Two trees were uprooted during the heavy storm and rain. A third tree that would have hit and destroyed their house did not fall. After the flood the situation got better with support by the school and other people. They were able to renovate the house a bit. Hope arose. They also started seeing a white man walking through their dream's. They haven't understood the significance of this yet. In front of their house one of the trees that was uprooted has started growing again and is now bearing new branches with green leaves as before. They are surrounded by miracles.
Join us in prayer for this family in a Southeast Asian country:
Thank God for protection during the flood and sparing their house from being destroyed.
Thank God for the uncle that is supporting Faadl, Elmas and their mother wherever possible.
Thank God for his glorious miracles that they have experienced.
Ask God to reveal himself that they might see his glory and ultimately encounter "Isa Al-Masih" as the Rohingya call Jesus.
Ask God to give strength to bear daily life with all the pain and suffering this family and two boys have to go through.
Ask God for a revelation of his father heart, that he might become their peace, hope and future.