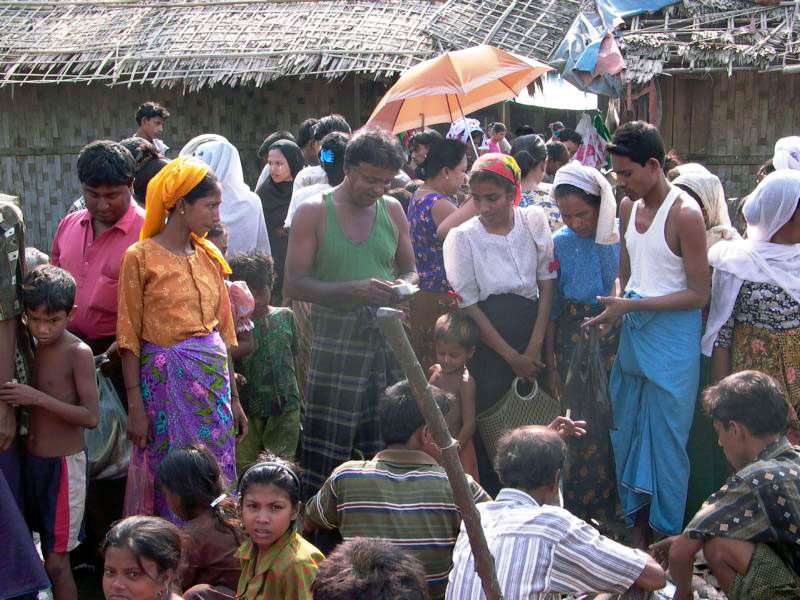 On Myanmar's west coast, at the Bay of Bengal, lies the Arakan mountain range, a rugged, sparsely inhabited natural barrier to mainland Burma. Arakan was an independent kingdom up to the Burmese invasion in 1784. The first Muslims arrived in Arakan over 1000 years ago. After the British annexation of Arakan in 1826, however, the influx of Muslims from neighbouring Bengal increased significantly. Today's Muslim population of northern Arakan, who call themselves Rohingya, are descendants of both, the early settlers and the immigrants during colonial rule. They number well over a million.
After Buddhists and Muslims have mostly lived peacefully side by side during the past centuries, tensions grew over the past decades. In 1982, the Burmese Buddhist military government passed a law, stripping the Rohingya of their citizenship. Several waves of brutal persecution followed, resulting in massive streams of refugees into Bangladesh. Until today, Rohingya are not recognised as Myanmar citizens and are denied proper identity papers. They are not allowed to travel freely, not even to the next village. They are subject to daily discrimination, ill-treatment, forced labour and arbitrary extortions. They even face restrictions as to whom they are allowed to marry and how many children they can get. Rohingya are arguably the most persecuted and disadvantaged among the many ethnic minorities in Myanmar.
The Rohingya have distinct features from both, the Buddhist Rakhine and the Bengalis across the border. Most of them are farmers or fishermen. Their language is related to, but different from, the Chittagonian dialect of Bengali. Although there existed Rohingya literature in the past, it is now a predominantly spoken language. Only since recently, efforts are underway to create a writing system for their language. Rohingya are Muslim, many practice mystic folk Islam (Sufism). Its occult practices include the use of amulets and magic for protection and healing, the visit of saints' shrines and contact with spirits (jinns). Many are also attracted to fundamentalist teachings.
Prayer Points:
● that the Lord who "upholds the cause of the oppressed" (Ps 146:7) might bring justice to the suffering Rohingya
● that God opens the hearts of Rohingya through dreams, encounters and other means
● for the few Rohingya believers to grow in faith and
● for Gospel materials to be produced and distributed in Rohingya language, both printed and audio-visual