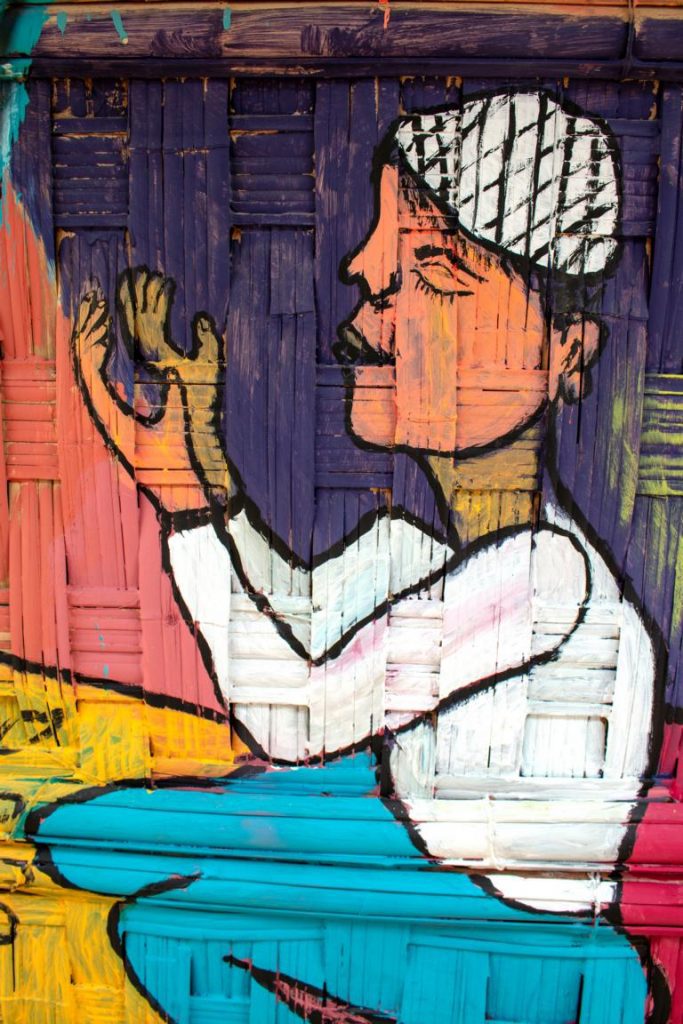 Ismael guesses he's 80 something years old; he doesn't know his exact birthdate. He tells us how as a child he loved to paint, and when he was 12 years old he had travelled from his small village to the big city to enter an art competition – and he won!
After the coup d'etat in 1962 the Rohingya were no longer recognised as citizens of Myanmar and education was not freely available for the ethnic minority. In grade eight Ismael was kicked out of school and banned from practicing cultural expressions such as art.
As targeted persecution increased, many young Rohingya men fled across the border to Bangladesh. At 16 years old Ismael left Myanmar. He stayed away for a number of years, living in six different countries. He later returned home to look after his aging parents, eking out a living as a fish farmer.
Following the violence in 2017 and the subsequent military crackdown, Rohingya survivors from a nearby village ended up on Ismael's doorstep. For years, the government had controlled the movement of Rohingya people, banning them from having houseguests without permission. Ismael defied the government sanctions and gave refuge to people whose villages had been destroyed. When the officials found out, Ismael and other men were arrested and brutally beaten. Ismael suffered severe injuries and witnessed others be killed.
The community rallied together and raised an incredible US$15,000 – a lifetimes earnings – as a bribe to have the men released. They immediately set out on foot on the long journey to find refuge in Bangladesh. Ismael was able to receive medical attention and made a full recovery.

Over 70 years since he won the art competition Ismael is returning to his first love of art. He has a job with a Community Art NGO as part of a team that paints murals around the refugee camps. After decades of having his culture systematically crushed, he is now able to earn a living for his family by doing the very thing he loved so much as a child.
Pray:
That the murals will bring joy and happiness to those living in the camps.
For the new generation of children to receive a good education.
For the Rohingya culture to be expressed and passed on from generation to generation.